Univox® IR System
Univox IR system for assistive listening; transmitter with 72 diodes and pendant receivers designed to be used with T-coil neckloop or headphones.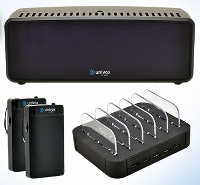 The Univox IR System provides wireless, secure assistive listening and is suitable for use in boardrooms, houses of worship, cinemas, theatres, courtrooms, auditoriums and class rooms etc. when Induction loops* are not.
Univox infrared systems offer high quality audio with two mono channels or single channel stereo operation. The powerful transmitter features 72 IR-diodes for high performance area coverage to 400m2.
It is quick and easy to install and is ideal for applications where information security and overspill control are critical.
Features & Benefits
Secure assistive listening
Powerful 2 W transmitter to cover up to 400 m²
Automatic gain control (AGC)
Low weight, simple to use-receivers
Receivers can be charged with standard USB chargers
Receivers are compatible with the Univox neck loop and standard headphones