Professional Loop Systems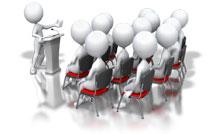 Our extensive range of professional induction loop amplifiers are backed by a 5 year warranty and are fully compliant with all relevant standards. They include the professional induction loop series- PLS- for use in professional applications ranging in room size from a few square metres to 1800 square metres, the Univox Superloop series - SLS®- offering all the benefits of the professional loop series but with the added advantage of ultra-low spill control -almost 3D coverage and metal loss compensation capability as standard, the P loop series where portability is needed but without any compromise on performance, and the Counter loop series- CTC -where a cross the counter solution is required for applications such as ticket counters,reception desks and other small areas.
You will also find our Univox Compact Loop Series, (CLS)® amplifiers in this section. These are characterised as low power amplifiers, even though they are more capable than any other manufacturers products in the same class. The largest of which, the CLS5, will cover 200m2 and with 7 different inputs including Optical and Scart, it integrates directly with a television making it ideal for use in common rooms, TV lounges, care homes etc.
Where outstanding performance, high stability and secure operation are a must only use Univox