FREE Installer Training Course In Birmingham
Induction Loops - Theory and Practice ( Birmingham) 8th and 9th July

 Due to a high demand this free course will be run on both the 8th and 9th of July.


A two part training course on audio induction loop systems.  Aimed specifically at installers who are looking to gain the necessary knowledge and expertise to take advantage of business opportunities for induction loop installations. 
Part 1 is a 90 minute webinar which will run on the 3rd July and repeated on the 5th July at 10:30am to 12 noon.  Delegates will need access to the internet to participate in this.
Part 2 is a 1 day practical session, designing, installing and commissioning loop systems.  Delegates will need to bring a Wi Fi enabled laptop or tablet to this training day
Additionally, the course offers the first step to becoming a UnivoxAudio Accredited Partner. 
Cost
The course is FREE OF CHARGE to those who Book and attend.
Delegates who book a place on the course, but do not attend on the day will be charged a 'No Show ' fee of £70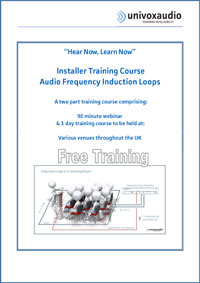 The Univox FSM2 Field Strength meter will be available for purchase on the day at a discounted rate of £170
Course Objectives
On completion of the course you will know:
Why induction loops are the preferred assistive listening technology
How induction loops work and where they are needed
Metal loss– what it is and how to compensate for it
Spill control– What it is and how to achieve it
The 6 basic loop configurations– What they are and when to use them
How to use multiple amplifiers for large area coverage
Requirements of the international standard  IEC 60118-4:2006
How to complete a site survey
The essential do's and don'ts of induction loop installation
How to design an induction loop using  new Univox ® 'Designaloop' software
How to install and commission an induction loop system
Benefits:
First step to achieving UnivoxAudio Accredited Partner Status  - See 'Your guide to becoming an Accredited Partner' 
Raises professional standards and credibility
Quick and simple process for correct loop specification
Ensures correct first time installation
Ability to specify, design and install loops that deliver intelligible sound
Ability to specify, design and install loops that always meet standard
Knowledge to recognise good loop systems
Knowledge to maintain a working loop system
Expertise to provide full loop system specification at correct stage of contract
*New Univox® professional loop design software will be made available to everyone on the day of the course.  It will then be available exclusively to those who successfully complete the course and are working towards  accredited partner status.  See– Your guide to becoming an accredited partner.   
 Venue:  Both events will be held at The Holiday Inn Birmingham M6 Jct 7,Chapel Lane, Great Barr, Birmingham, B43 7BG 0871942 9009
To Book Your Place or To Find Out Other Course dates, Contact Ken - 01707 339216