A better future for hard of hearing people with launch of UnivoxAudio Ltd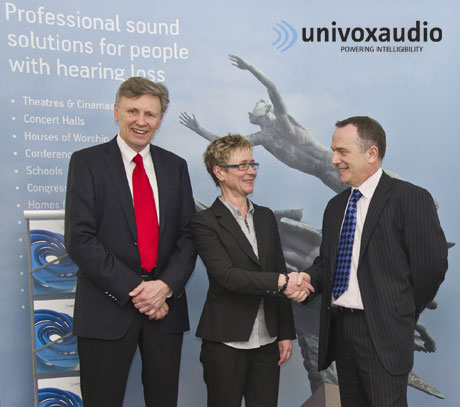 Conny Andersson (left), Meta Bernhager (centre), Ken Hollands (right)
Making daily life more enjoyable and enriching for the 1 in 6 people in the UK who are hard of hearing is the mission and passion behind the launch of UnivoxAudio Ltd, a high performance assistive listening company based in Hertfordshire. The company's aim is to help people with hearing loss to hear clearly and easily in public places and at home. The company has been founded by the world's oldest and most experienced induction loop company, Bo Edin of Sweden (trading as Univox®), and Ken Hollands, a leading UK induction loop expert and advocate.
The company believes that the 10 million people in the UK with hearing loss have been treated as second class citizens for too long and that the very poor performance of many induction loops and attitude towards assistive listening in general needs to change.
UnivoxAudio Ltd was set up to raise standards in assistive listening and in particular induction loop technology. The goal is to significantly improve the future for the hard of hearing with powerful assistive listening products that deliver good, clear, intelligible sound, are very easy to specify and install, and enable compliance with all internationally recognised standards and disability legislation.
Bo Edin has been pioneering hearing excellence since 1965 and has developed some of the world's first induction loop products and technologies. To date they have shipped just under ½ a million products and are actively involved in developing standards for the performance of induction loop systems internationally. With the objective of growing business in Europe and particularly the UK, Bo Edin wanted to work closely with someone who had in depth knowledge of assistive listening and good commercial skills, but in particular, who had the same attitude to assistive listening.
Conny Andersson, Technical Director and Owner of Bo Edin says:
"Ken is well respected and very experienced in induction loop technology and the UK market, but in particular he shares with us the same belief in assistive listening and the desire to find solutions that offer real and long lasting benefits for everyone. Working with Ken will give us a solid platform to increase our UK presence"
Ken Hollands, Managing Director of UnivoxAudio says:
I am very pleased to have the opportunity to work with Bo Edin as they're not just another assistive listening company jumping on the disability bandwagon. They've been around for a long time, they don't make false claims and they care about the difference their products make to someone with hearing loss- and that's a good thing to be part of
Hollands explains more about the company's philosophy, he says:
Most companies out there seem to operate in one of two ways- they either make everything unnecessarily complex, time consuming and difficult but aim to do a good job or they don't care and are just looking for a quick sale.
Too many induction loop systems don't work because they're simply underpowered. Univoxaudio is about 'power and performance' which means a good experience for the hearing aid user, and 'engineering simplicity', which means making it easier for the Architects, Consultants, Facilities Managers, Designers and Installers who use our products
The UnivoxAudio product range includes professional induction loops, domestic induction loops, wireless microphone systems, test and measurement equipment and domestic hearing loss aids.
To learn more about UnivoxAudio Ltd please visit www.univoxaudio.co.uk
Editor's notes