Brisbane International Airport, Australia
Challenge:

An effective public announcement system at a busy and noisy international airport where accessing floors is impractical and difficult and original competitor installation, ineffective.

Solution:

Making adjustments, replacing and refitting loop cable and using much more powerful induction loop amplifiers.

Benefit:

Fully operational and significantly improved induction loop system for the hard of hearing, complying with Australian standard AS-1428 in many areas of the airport.
At a busy international airport the need for an effective public announcement system is vital. Important passenger information is being communicated and updated constantly and passengers need to be kept informed of regular flight status updates. Struggling to decifer what is being announced is difficult and frustrating enough for people with normal hearing but for the hard of hearing it is particularly stressful.
At Brisbane International Airport in Australia, Univox® was asked to rectify an existing poor performing induction loop installation. The poor planning, design and installation of a competitor's induction loop amplifiers had resulted in an ineffective system that delivered no benefit to the hearing impaired. Univox® distributor in Australia, Phoenix Hearing Instruments, was called in to correct the faulty installation.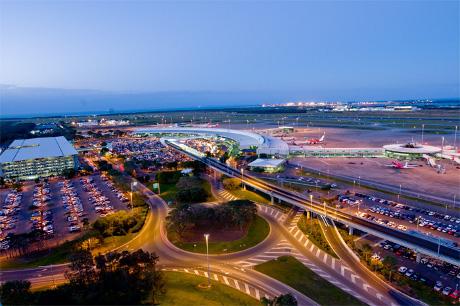 Working in an operational airport meant that accessing floors was impractical and difficult. A major problem was the replacement and refitting of the loop wire. Most of the lead-in wires used were too long and not twisted, causing major energy loss. There were several places where excess loop wire had been left in loops, sometimes as much as 20 metres. Additionally, the induction loop amplifiers used were significantly underpowered (7A RMS output), for the areas to be covered.
By making a number of adjustments and using much more capable Univox® amplifiers, the airport was able to offer a fully operational and significantly improved solution for their hearing impaired passengers.
Unfortunately, as a result of the inaccessible loop wires, the domestic terminal at the airport could not be rectified to meet the Australian standard- AS-1428. However, most areas did comply, serving the hard of hearing community well.
The project served to demonstrate the need for a professional approach to assistive listening and the importance of good planning, design, installatioin, communication and teamwork.
Products
Univox PLS®-900 Professional Loop System - 6 units
Univox PLS®-700 Professional Loop System - 14 units
Project Team
Phoenix Hearing Instruments, Brisbane