World Expo, Zaragoza, Spain
Challenge:

A practical way of ensuring accessibility for the hearing impaired at a large scale event

Solution:

Installation of induction loops in key public areas throughout the theatres and arenas

Benefit:

The hearing impaired did not need to disclose their disability, they could hear easily and clearly by simply switching their hearing aid to the 't' position, doing away with the need to allocate time and resource to the management of FM or infra red receivers.
Univox® hearing loop amplifiers gave hearing aid wearers excellent sound quality at many theatres and arenas at World Expo in Zaragoza, Spain in 2008.
To encourage visitors, organisers of World Expo wanted to ensure accessibility for the hearing impaired as well as wheelchair users. With so many visitors it was impractical to use infrared or FM assistive listening systems, as loaning large numbers of receivers would be extremely time consuming. The decision to use induction loops was the only sensible and practical one.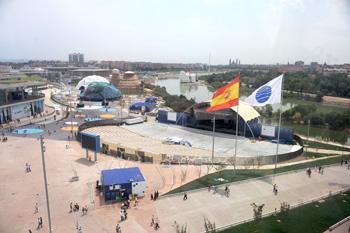 Univox® Spanish distributor, Centro Audioprotésico Aragon, Zaragoza, had early stage discussions with the architects and project managers for the event. This early planning and teamwork resulted in Univox® hearing loops installations in the ticket office, scenic areas and thematic plazas such as Aragon Pavilion, Spanish Pavilion, Aquarium (auditorium) and an amphi theatre.
By working closely together, those involved in the project could identify the right amplifiers, taking into account metal loss, and the need to control overspill.
Hundred of thousands were able to hear information announcements with clarity, and enjoyed the numerous concerts and shows at this spectacular event, with no extra effort. To hear clearly and easily, they simply switched their hearing aids to the 'T' position and took part fully in the activities. Furthermore, assistive listening was made simple and hassle free as there was no need to allocate time and resource to the organisation and management of FM or infra red receivers.
Products
Univox SLS-100 Super Loop System
Univox PLS-700 Professional Loop System
Univox PLS-300 Professional Loop System
Univox PLS-100 Professional Loop System
Univox CTC-121 Cross the Counter System
Project Team
Centro Audioprotésico Aragon, Zaragoza