Scandic Hotels
Challenge:

Making the hotel accessible to the hearing impaired without compromising aesthetics

Solution:

Cross counter loops, portable loops and alarm clocks with built in vibration pillow

Benefit:

A better and more enjoyable experience for the hearing impaired, increased bookings guests and overall appeal of hotel chain
The largest Nordic hotel chain - 'Scandic Hotels', became one of the first truly 'accessible hotels' when they implemented a program to welcome and encourage disabled guests.
With respect to the needs of the hearing impaired and through a close and long-lasting relationship with Univox®, 'Scandic Hotels' equipped their hotels with cross the counter loop systems, portable loops and alarm clocks with built in vibration pillow and emergency alarm indication. Guests now benefit from induction loop systems in the reception and conference rooms and can wake up safely, even when a fire alarm goes off.
The company's commitment to the hearing impaired was demonstrated in 2005 when all Scandic hotels in Sweden, Norway, Denmark and Finland were equipped with several assistive alarm clocks and one cross the counter loop system, for use at the reception desk.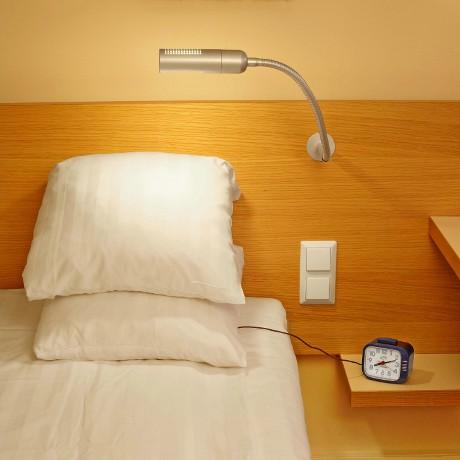 Maintaining the hotel's aesthetic appeal was an important criteria. The company did not want to have to compromise the style and elegance of the hotel in order to become accessible, so well designed, discreet and aesthectically pleasing signage was developed for their hearing impaired visitors, to complement the style and brand of the hotel.
Further enhancements to the program took place in the summer of 2007 when the same hotels received a portable loop system for use in conference and training facilities. Conference organizers simply book the portable loop at reception for easy set up in any room or space up to 150m2. Since then, Scandic hotels in Germany, Poland, The Netherlands and Belgium ordered the same equipment and the program was so successful that it was rolled out across all Scandic hotels. It is now Scanic policy to equip evey new hotel with the same package of Univox® assistive listening products and systems.
And the popularity of the initiative has led to assistive alarm clocks and cross the counter loops being used in two european hotel chains.
Products
Univox® SafeWake, alarm clock with vibrator and alarm indication
Univox® CTC-121, cross-the-counter loop system
Univox® P-Loop, portable loop case with double wireless microphones
Project Team
Bo Edin AB for Sweden and other European countries
Gewa AS for Norway
Dansk Høreteknik for Denmark
Danalink OY for Finland