Events Calendar
Installer Training Course In Newcastle Upon Tyne
Contact
Lucy@univoxaudio.co.uk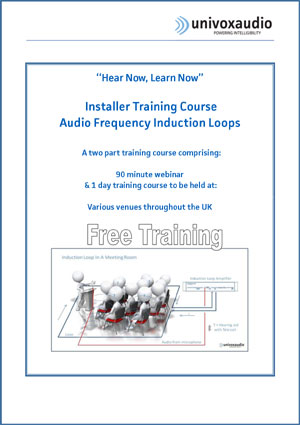 We are taking our Installer Training Course to Newcastle On November 7th 2018.
Why Not Join Us?  It's Free!
( a Fee of £70 is charged for no Shows)

This two part induction loop training course is aimed at competent AV and electrical installers who want to gain the necessary expertise to design and install induction loop systems that meet the IEC performance standard IEC 60118-4: 2015, impress their clients and delight hearing aid users.
Additionally, the course offers the first step to becoming a UnivoxAudio Accredited Partner. 
The course consists of a 90 minute webinar and one full day on site training.
Whilst you will be using Univox products on the training course most of what you learn is applicable to all hearing loop systems

To register your interest contact  Lucy@univoxaudio.co.uk
Location
7th November 2018 Copthorne Hotel Newcastle The Close, Quayside Newcastle upon Tyne NE1 3RT
Due to the practical nature of this course, places are limited and you are advised to book early.